Transcript
Edit
I saw the ghosts
hands aflame, reaching towards
God with an urge
to extinguish.
Felt the rolling shocks, jutter
of shades pulled too far-
released. Just so the
songs came to an end,
fluttered like moths-
like something more profound;
Prophets in their graves,
dead asleep at last.
Three steps
of Homer, west:
Serpentine,
damp graves where prophets slept,
those resting dead.
Still brush, no bird nor myths
simply-
Creche-pressed pines
amid dust-like silence.
Gorgonian tether'd pools,
a breath of seconds, a mossy nest.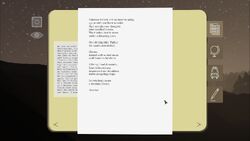 Fine crush
of shells, layered,
lazy, languished erosion,
dark remnants of the old style.
Colossus lashed, salt-sprayed to aging,
agape with northern wonder.
Ripe sounds, raw thoughts
pine-needled breeze.
The thinker, lost in stone
under a decaying dock.
One shining ship, Tiphys
his hand outstretched.
Cloven,
dusted with winter moss
wolf-home to brothers.
A living cloud descends,
Zeus in his ecstasy
disperses from shoulders
down along fingertips.
Secrets kept, in me
a terminus borne.
-Hartier