Transcript
Edit
First Note
Edit
For the gracious service of Alexander Ward, and the defense of your home land. Fifteen positions available in wall defense, maintenence, and patrol. Just wages for fair work, apply by mail to Ward's office, or in person at the Northern Office. Wages paid by taxpayers, and by the labors of the city.
-Daichi Mori
Second Note
Edit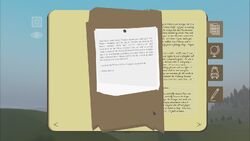 Need more meal tickets? Need to relaod your AID card? The Western Districts, and the city of Victoria are looking for hearty workers. Work may involve construction and renovation of the Vittara Factory Line, as well as people ready to work on the factory floor itself. Payment is in paper and coin, with benefits including extra meal tickets, an extra daily allotment from Vittara, and the ability to trade in either for extra cash on you Aid card.
Inquire at the Western Office Complex, room 419/B
-Auden Innsley
Third Note
Edit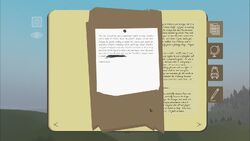 The City Central has seen a significant uptick in crime recently, and as part of Ward's "Save the Streets" project, we are now looking for people willing to patrol the streets and watch for suspicious behavior including cultist gathers, illegal churches, and general religious profanity. Payment will come in the form of City Central housing lotto tickets and gold ingot. Your city needs you, and we can all pitch in to stop the "Faithful". Inquire inside or email us *address crossed out*
-Daichi Mori
Fourth Note
Edit
THE TURNSTILES AWAKEN -- REJOICE IN THE SHOCKING CENSURE. GATHER UNDER THE SKIN, LIKE BONES FOR THE CORMORANTS, WE FEAST, RING THE BELLS THEN AND JOIN US.
-PITH