Transcript
Edit
"This memorial was not built to remind us, for we will not forget what has happened in Seattle. Nor is it to commemorate those who lost their lives, for they will always be held in our hearts. We don't need a statue for that. We need a statue, as a community and as a nation, to remind us that we are all unified. This was not a disaster that affected Seattle, not only the Pacific Northwest, but all of the West Coast, and indeed the whole of nation. Every American citizen today has felt heartache, has suffered, and knows that they are not alone in that. We build this memorial as penance, if only we could've acted sooner, if only we had known. We build this memorial as the work it is, to remember that America is a place of hard work and no disaster will turn us from that. And in this stone we put our own heartache, to make the burden a little lighter."
-Eli Wolmorth, 47 U.S. President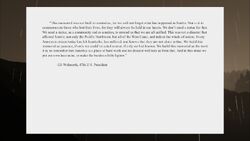 Ad blocker interference detected!
Wikia is a free-to-use site that makes money from advertising. We have a modified experience for viewers using ad blockers

Wikia is not accessible if you've made further modifications. Remove the custom ad blocker rule(s) and the page will load as expected.