Transcript
Edit
Journal belonging to the Trapper Marceau
Today is reckoned to be the 2nd day of the 9th month of year 1151
Went south through an older land today, quiet along the valley and down by the river mild chirping but nothing evil. Drank and followed it down to a small pool surrounded by mushrooms. No footsteps or rustling so plentiful game here. Ten pelts by sundown and plenty of meat. The fire burned well, and I watched stars go by. Tomorrow headed east down the stoneway along Snoqualmie, spend a night at Keechelus. Past the mountains maybe camps, but I'm headed further. Heard a few wanderers meeting up further away. Too warm here in the summer, missing north and can't wait to be back. Bugs on my neck and wet things in the grass. Got no walls tonight, hoping no one sees the embers. Thinking about what I'll want for the catch, but for now I'm content. Full belly, warm coat, home by the end of the year. Maybe gold or something from the history books. Could always get a new map.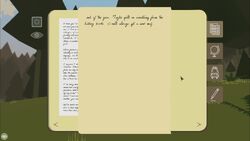 Ad blocker interference detected!
Wikia is a free-to-use site that makes money from advertising. We have a modified experience for viewers using ad blockers

Wikia is not accessible if you've made further modifications. Remove the custom ad blocker rule(s) and the page will load as expected.