Transcript
Edit
Everything about the journey to Victoria was strange, but it is nothing in comparison with Victoria itself. If you're reading this, then you have crossed the bridge and see the remnants of the monolithic stone structures erected by Daichi Mori and Alexander Ward. Maybe you've seen the runes carved into the wall around the city, too. We haven't gone inside yet, but I've seen picures of so-called New Victoria, and it must be marvelous, like a city from a fantasy story. Maybe a little terrifying, too.
I met Daichi Mori when I was a child. Well, when I was more literally a child. It was before he was a glorified cult leader and Alexander Ward's personal psychic. He was a phenomenally gifted Sennin, but even when I was young I found something off about him. It was at a Sennin gathering, and the whole building glowed with our light. I remember sitting in the audience while he had one of his episodes, and the whole thing was recorded for the world to see. That was the day he predicted the Noeseong tsunami that would hit the South Korean coast two weeks later. He saved many lives that day.
But that was before New Victoria.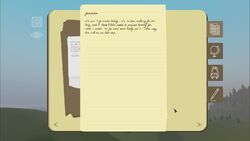 I never went to New Victoria, partially because there was never any real reason to and partially because the longer "Mayor" Ward was in charge, the stranger and more cut-off it became. It was this unique phenomenon where it receded from the world and everyone else all but forgot about it, which might be why it lasted so long. Even now it's strange to be so close to it. It feels somehow forbidden.
We won't go inside today. We've been walking for too long, and I think Elden wants to prepare himself for what's inside. Or for what most likely isn't. Either way, this will be our last stop.